Gift Vouchers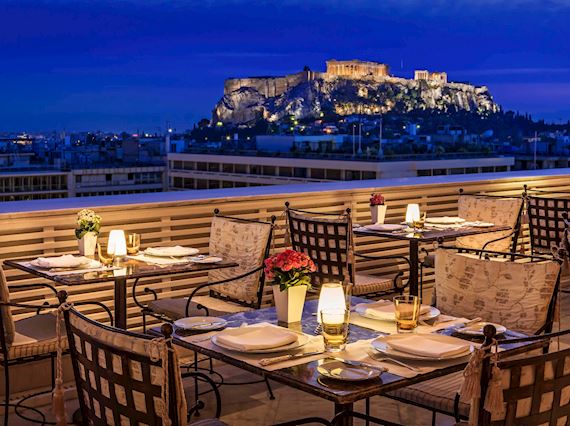 Gift Voucher: 1 Dinner For 2 At The Tudor Hall Restaurant of King George, Athens
Experience a romantic dinner for two, when the city lights come on and the cosmopolitan aura becomes apparent.

The menu of Executive Chef Asterios Koustoudis, and Chef de Cuisine, Alexandros Koskinas, praises the Modern Greek cuisine and has as a key element of differentiation the use of fresh seasonal vegetables and raw materials. This is the reason why the restaurant menu is being continuously updated.

Reserve your table at the Tudor Hall Restaurant (Tuesdays to Saturdays), from 18:00 to 23:00 (last order at 22:45 PM)) and enjoy the finest a la carte menu by choosing:
1 Appetizer or Salad
2 Main Courses
2 Desserts
A bottle of red or white house wine.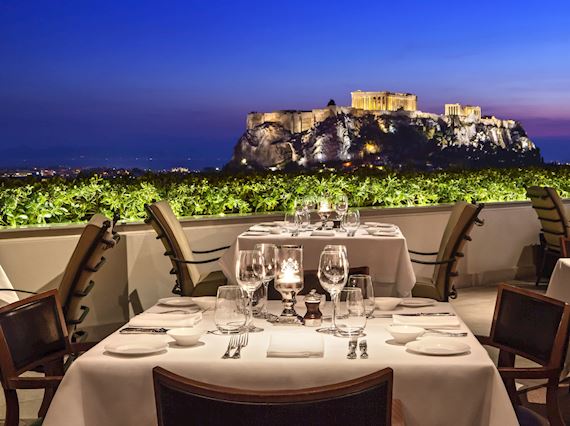 Gift Voucher: 1 Dinner for 2 at The GB Roof Garden Restaurant of the adjacent Hotel Grande Bretagne, Athens
Experience a romantic dinner for two, when the city lights come on and the cosmopolitan aura becomes apparent.

The menu of Executive Chef Asterios Koustoudis, praises the new Mediterranean cuisine. Each dish reveals the high level of the team behind each creation. The emphasis on quality raw materials and excellent technique is evident from the very first bite.

Visit the GB Roof Garden Restaurant daily, from 18:00 to 23:15 (last order at 23:00) and enjoy the finest a la carte menu, by choosing:
1 Appetizer or Salad
2 Main Courses
2 Desserts
A bottle of red or white house wine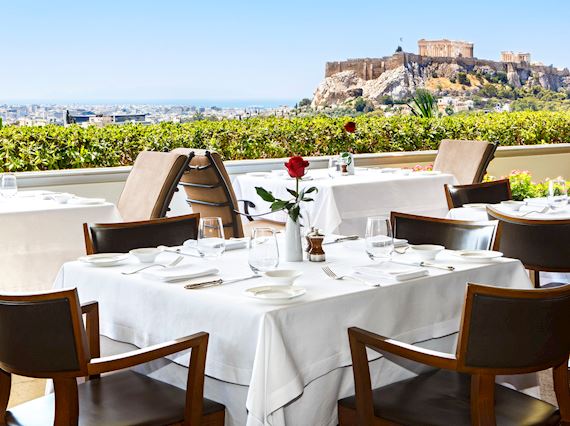 Gift Voucher: 1 Lunch for 2 at The GB Roof Garden Restaurant of the adjacent Hotel Grande Bretagne, Athens
Enjoy your lunch in an elegant and warm environment at the GB Roof Garden Restaurant.

The menu of Executive Chef Asterios Koustoudis, praises the new Mediterranean cuisine. Each dish reveals the high level of the team behind each creation. The emphasis on quality raw materials and excellent technique is evident from the very first bite.

Visit the GB Roof Garden Restaurant daily, from 13:00 to 18:00 and enjoy a set-menu of:
1 Appetizer or Salad
2 Main Courses
2 Desserts
2 Glasses of House Wine