Tudor Hall Restaurant Menus
A La Carte Main Dinner Menu
Cold Appetizers & Salads
The Fruits of the Sea | Seafood and shellfish of the day
-
42
Eggplant Salad | Grilled Smoked Eggplant with olive oil, garlic and parsley
-
16
Santorini salad with cherry tomatoes, Burley Rusks, Greek mountain oregeno and "Katiki Domokou" Cheese
-
17
Seasonal Salad and crisp vegetables with fresh fruits, dry nuts and "Amphilohia" Pecorino Cheese
-
17
Hot Appetizers
Pan seared scallops with hazelnut, mandarin and cocoa crumble
-
33
Red mullet "savoro" style
-
29
Confit quail leg and roasted breast with vinaigrette from its juice and cornelian cherry
-
25
Beef sweetbreads with "Naxos Arseniko" cheese sabayon, mushroom duxelles and garlic foam
-
25
Steamed foie gras with pear and Jerusalem Artichoke
-
34
Pasta & risotto
Homemade green pasta with "Volaki" cheese from Andros island, watercress and truffle
-
25
Corifian style Carbonara
-
25
Green Vegetable risotto, goat cheese and fresh herbs
-
24
Fresh pasta with tomatoes and lemon confit, black olives and rocket leaves
-
21
Fish
Fish of the day, grilled or steamed with vegetables and lemon- olive oil
-
46
220 gr.
Mount Athos Scorpion fish speciality, winter vegetables cooked in a clay pot and fish broth sauce
-
47
Grouper cooked with leek and celeery, fresh tomato and espelette pepper
-
46
Meat
Organic rooster leg and breast with white asparagus, chards, "Graviera" cheese and sage
-
30
Rabbit "Stifado" style with foamy potatoes and red rose scent
-
29
Lamb shank in clay pot, fennel, burnt cream and black olive oil
-
34
Duck breast with salt-roasted beetroot, walnuts and tomato honey
-
36
Dessert Menu By Arnaud Larher
Dessert menu
L'olive
-
12
Olive oil crémeux with lemon tapenade, green apple, turmeric, orange blossom and olive oil cake
Pompadour Figue- Framboise
-
12
Almond dacquoise with raspberry-fig compote, buttercream and fresh raspberries
Chocolate, Orange and Tahini
-
12
A Greek suggestion from our pastry chef, Evgenios Vardakastanis | Bitter chocolate cream 70% with "Tahini" sesame seed paste, orange compote and cocoa sorbet florentine
Paris Brest pistache
-
12
Light and airy choux pastry with Aegina pistachio cream and praline and carmelized pistachios
Stevia
-
12
Vanilla "entremet" with bitter chocolate mousse and stevia
Ekmek Kataifi
-
12
A Greek suggestion from our pastry chef, Evgenios Vardakastanis with vanilla cream, lemon and cinnamon flavored chantilly and ice cream
Ice cream and sorbet selection
-
4
per scoop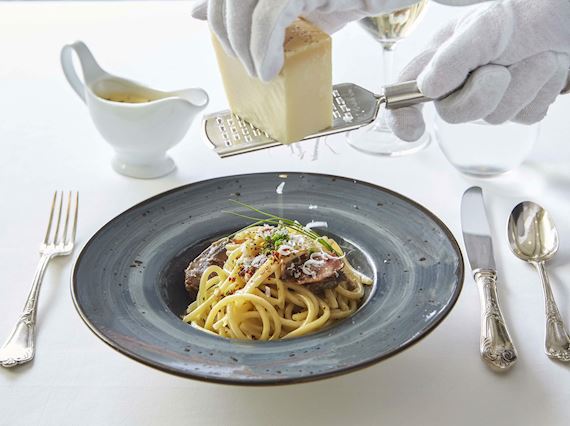 Mediterranean Cuisine At Its Best
The menu of Executive Chef Asterios Koustoudis, praises the new Mediterranean cuisine. Each dish reveals the high level of the team behind each creation. The emphasis on quality raw materials and excellent technique is evident from the very first bite. The expanded wine list reflects the major wine producing regions of the world and offers a wide variety of excellent choices with sommelier Evangelos Psofidis recommending the ideal combination for dinner.