Tudor Hall Restaurant Menus
Dinner Menu
Cold Appetizers & Salads
Marinated seabass with citrus, avocado, cucumber and bottargo
-
29
Βeef fillet with beetroot leaves, baby red fruit, cream cheese and smoky aromas
-
29
Eggplant salad | Grilled smoked eggplant with olive oil, garlic and parsley
-
16
Santorini salad with cherry tomatoes, burley rusks, Greek mountain oregano and barrel aged 'feta' cheese
-
18
Tender lettuce leaves with seasonal fruit, pine honey and dry nuts
-
19
New potatoes with Corfiot cured meat 'nouboulo', 'graviera' cheese and quail egg
-
20
Hot Appetizers
Steamed foie gras with winter pumpkin, carrot, ginger and almonds
-
36
BBQed lake trout with spinach, smoked eel and horseradish
-
31
Scallops 'à la blanche' with white asparagus, watercress and chili pepper
-
33
Cabbage rolls with rice, dill, fresh mint and egg-lemon sauce
-
19
Quail leg and breast with red cabbage and green apple
-
26
Deep-fried octopus with 'fava' split pea purée and spicy tomato syrup
-
29
Pasta & Risotto
Homemade pasta filled with 'San Michali' cheese, marrow and mushrooms cooked in their broth
-
24
Lobster roasted in its shell, pasta, basil and coral sauce
-
54
Neck of lamb cooked in the casserole with sour cracked wheat 'trahanas' and sheep yoghurt with cumin
-
29
Handmade 'pappardelle' with wild mushrooms and truffle
-
24
Fish
Fish of the day, grilled or steamed with vegetables and lemon-olive oil vinaigrette (220gr.)
-
46
Grilled fish of the day with steamed vegetables and extra virgin olive oil and lemon (220 gr)
-
48
Wild cod fillet, leeks with paprika and celery juice
-
47
Mount Athos scorpion fish specialty, chards, beans, fennel marmalade and Kozani red saffron
-
45
Meat
Slow cooked beef casserole with parsley roots, vinegar and sweet garlic
-
36
Organic rooster 'en cocotte' with aged red wine, sweet spices and corn cream
-
31
Roasted carré of pork, celeriac, quince, 'firiki' apple variety and dry fig-walnut sauce
-
38
Rabbit cooked in a clay pot with plums, foamy potatoes and 'Metsovone' cheese
-
33
Dessert Menu By Arnaud Larher
Dessert menu
Sensation
-
12
Blackberry bitter chocolate mousse aromatized with tea, blackberry confit, crémeux and chantilly
Paris Brest Pistache
-
12
Light and airy choux pastry with Aegina pistachio cream and praline and caramelized pistachios
Forest fruits
-
12
Forest fruit 'sablée' tart, yoghurt ganache and raspberry chantilly
Stevia
-
12
Vanilla "entremet" with bitter chocolate mousse and stevia
Ekmek Kataifi
-
12
A Greek suggestion from our pastry chef, Evgenios Vardakastanis with vanilla cream, lemon and cinnamon flavored chantilly and ice cream
Chocolate & Caramel
-
12
'Trinitario' bitter chocolate 70% crémeux with butter caramel, caramel flakes with Madagascar vanilla and roasted cocoa beans - Specialty by our Pastry Chef, Evgenios Vardakastanis
Ice cream and sorbet selection
-
4
per scoop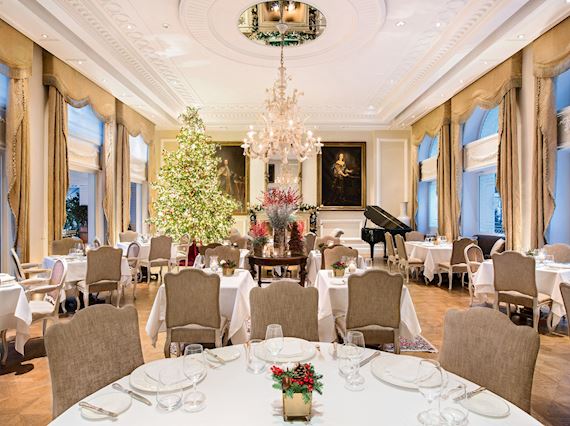 Deck the Hall 2019
The history of Europe's oldest capital takes center stage with the unparalleled views and highest standards of service at the Tudor Hall rooftop restaurant. An unsurpassed cultural backdrop to its exceptional indigenous cuisine, is the unique experience befitting the end of the decade. Please enjoy the twinkling view of Athens, during Christmas & New Year celebrations at the Tudor Hall Restaurant of King George hotel.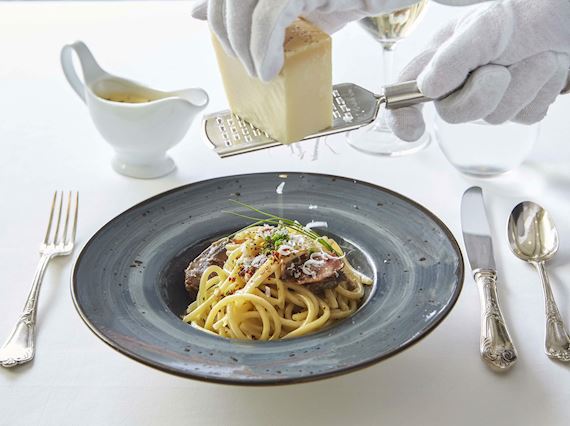 Greek Cuisine with a Modern Twist
Tudor Hall restaurant is ready to welcome you in the heart of the city, overlooking the magical historic heritage, and offering authentic Greek seasonal dishes with a modern twist. This combination is achieved through passionate Chef de Cuisine, Alexandros Koskinas, whose name is synonymous with quality. His aim is to create dishes that evoke nostalgia and emotion. A key element of differentiation is the use of fresh seasonal vegetables and raw materials. This is also the reason why the restaurant menu is being regularly updated, so as to line up with the seasonal produce. The extensive Greek and international wine list, curated by hotel's Head Sommelier, Evangelos Psofidis has received numerous distinctions.